When should I send out my wedding invites?
Congratulations on the big day! Now that you're engaged, there are probably a million things running through your head. What kind of wedding should we have? Where should we have it? What kind of cake do I want? (the only answer here is chocolate, btw). One item you shouldn't stress about is your invitations. They are an important but simple task to tackle.
When should I send save the dates?
Save the dates should go out 6 to 8 months before the wedding. If you are having a destination wedding, save the dates should be sent out 12 to 14 months before the wedding.
When should I send the wedding invitations?
Wedding invitations should be sent 8 to 12 weeks before the wedding date. This gives you time to get a final guest count and lock-in contracts with your vendors.
How should I send my wedding invites?
Any way you want! You can send them the traditional way via the post office but this is expensive and less eco-friendly. It's okay to break with the tradition! Some alternatives include email and text messages. This is cost-efficient, eco-friendly, and much easier to manage. Users can RSVP online so you can save time on manual data entry when you receive replies in the mail. It is 2022 after all.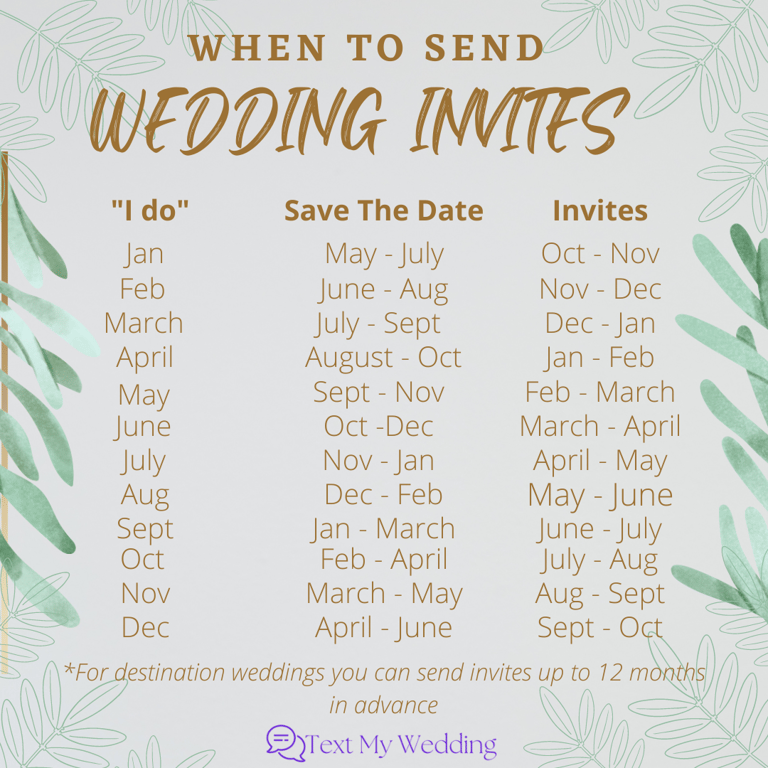 See invitations aren't so bad, are they? You have plenty of options and one less thing to worry about for your special day.
About the Author
David currently lives in Washington DC and knows how to throw a good party. He and his wife Renee got married in May of 2021 - that's where the idea for Text My Wedding came about. They had no way to let every guest know that plans had changed and then Text My Wedding was born shortly after. You'll catch them taking long strolls down the national mall while Facetiming friends to help them with their weddings.